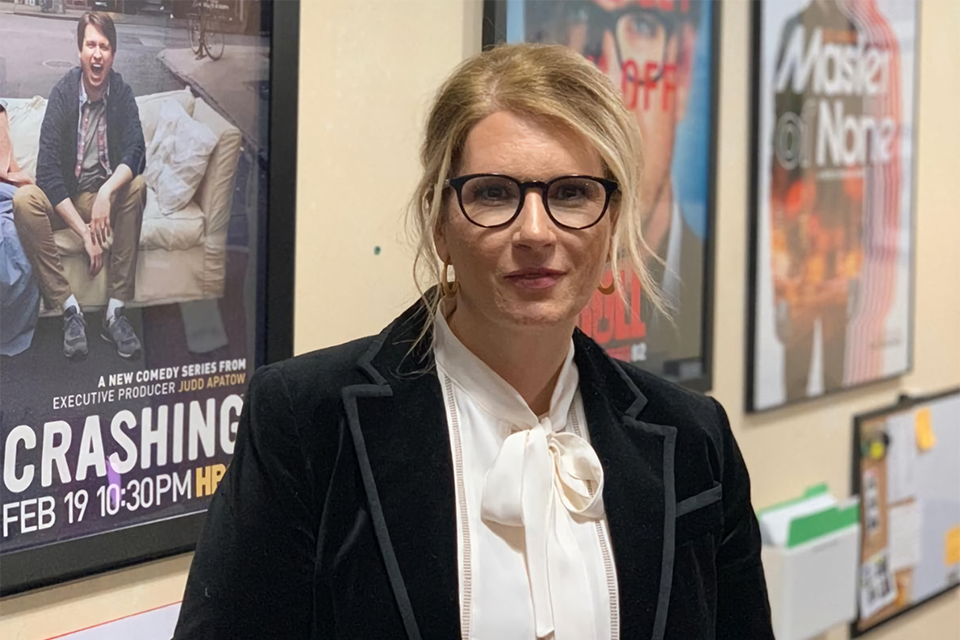 Gina Argento '94C, '96G rooted for the red storm while earning her bachelor's and master's degrees at St. John's University. Along the way, she has helped improve the planet through "green" initiatives at her company, Broadway Scenes, Ltd., one of the few eco-friendly sound stages in the film industry.
Ms. Argento, who earned undergraduate and graduate degrees in government and politics, credits her experiences in St. John's with cultivating her spirit of innovation. She said they helped her thrive as president and CEO of Broadway Stages, positions she has held since the 1990s.
Broadway Stages has grown from a small music video production company to one of New York's largest film and television studios. Among the shows currently being filmed are those of CBS Blue bloodNBC Law and order: organized crimeshow time BillionsHBO Golden age, and a host of streaming services and big-screen movies. In the process, the studio has employed thousands of people and supported a host of New York-based nonprofits that share its commitment to an environmentally friendly future.
To help inspire the next generation of St. John's students, Ms. Argento recently endowed a scholarship. The Broadway Stages Endowed Scholarship Fund will be awarded annually to one St. John's student in a Science, Technology, Engineering, Arts, and Mathematics (STEAM)-based program, with emphasis on those specializing in the arts.
"We feel a sincere responsibility to not only meet the needs of our customers and the industry, but also to help bring equity, inclusion and well-being to our community," Ms. Argento said. "We want to do our part as a catalyst for lasting change and drive economic, social and environmental prosperity.
Long before Hollywood embraced eco-friendliness, Ms. Argento and her brother, Tony, were considering ways for their studio to become better eco-citizens. Founded in 1983 in Astoria, Queens, it eventually expanded to Greenpoint, Brooklyn, where today it boasts a 1.6 million square foot space with 60 sound stages.
The studio rooftops feature 100,000 square feet of solar and green infrastructure. Additionally, in 2008, Broadway Stages funded the city's first rooftop organic farm, Eagle Street Rooftop Farmwhich sits atop a warehouse in Greenpoint.
The company also funded Kingsland wildflowers, a meadow and a habitat for bees that sits atop one of its buildings and serves as a stopover for migratory bird species. In 2019, Ms. Argento's company received a $1.5 million grant to develop another eco-roof on its site. Name it Broadway Stages Green Corridorit includes 30,000 square feet of garden space – with an additional 31,000 square feet planned – to support nearby habitats and the community.
The company continues to seek ways to improve environmental sustainability, hoping its commitment to the common good will attract more TV and film customers.
"Our communities are our heritage," Ms. Argento said. "It is our responsibility to ensure that they continue to thrive. We are proud to lead as supporters of sustainable business practices; our goal is to be the studio production company partner of choice for customers and the community.
She uses her innovative spirit and concern for the planet to energize her employees.
"The core values ​​of St. John's and the education I received confirmed what my parents taught my brother and me," said Ms. Argento. "Truth, love, respect, opportunity, excellence and service are not just words; they are a way of life. This is what I bring to my staff and my family every day. There is no room for compromise. It's about doing the right thing every time.
These St. John's shaped values ​​include inclusiveness and a commitment to uplifting the community. Broadway Stages uses local businesses for its service needs and encourages its customers to do the same whenever possible. The society's website features testimonials from a host of Brooklyn-area nonprofits, including one from Msgr. Jamie Gigantiello, Pastor of Our Lady of Mount Carmel-Annunciation Williamsburg Parish, Brooklyn; FDNY chaplain; and Vicar for Development Catholic Foundation for Brooklyn and Queens.
Ms. Argento's company funded a scholarship program for Msgr. Gigantiello's foundation that paved the way for Catholic education for many low-income children in Brooklyn. "The gift of education is priceless. Broadway Stages' support of our Angel Scholarship program is just that," said Msgr. said Gigantiello. "We are blessed to have Broadway Stages as a community partner."
Ms. Argento's generosity also extends to her alma mater. Nicholas A. Legakis '97SVC, '07MPS, the University's senior director of institutional advancement and development, says Ms. Argento's commitment to the University is "an inspiration to students at St. John's".
"We wanted to tell Gina's story, and she jumped at the chance and invited us to tour the studio," Mr. Legakis said. "Gina has since been involved in supporting the University and our students."
Other Broadway Stages partners include the Greenpoint YMCA; PS 110 at Greenpoint; NoOsphere Arts of Brooklyn, a leading producer of eco-friendly art and music performances; and even the nearby New York Police Department 94th district. Many of these partners respect Broadway Stages' reputation as an industry innovator and good neighbor to Greenpoint's more than 35,000 residents.
Likewise, Ms. Argento says the company intends to remain at the forefront of innovation in the film and television industry while never forgetting its commitment to Brooklyn and its people. His advice for the next generation of St. John's entrepreneurs? Stay humble and treat others with respect – golden rules she learned as a college student.
"You should never forget where you come from and always remain grateful," Ms. Argento said. "Today's bounty can easily turn into tomorrow's lawsuit."
Click here to view the Broadway Stages, Ltd. photo gallery.