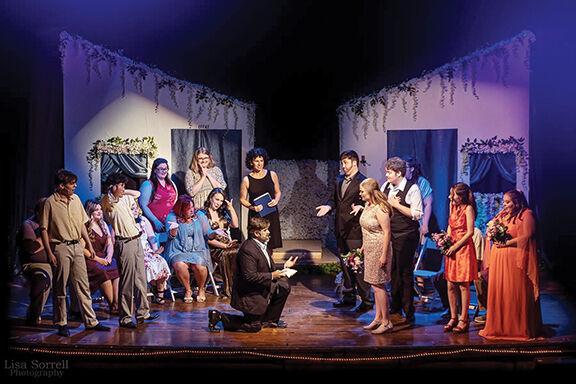 After a long preparation process and several hurdles to overcome, the new company AppleTown Productions has completed screenings of its first production, Mamma Mia, and is now looking to leverage its cross-county and cross-age group philosophy to continue supporting theater. in eastern Kentucky.
According to assistant director Emily Warne, everyone on the production team is exhausted after shooting several 14-hour days, but happy with what they've been able to accomplish. Warne cited good turnout, lots of fun, and community involvement as examples of those successes as she recovered from the weekend.
"I have a mixture of post-production exhaustion and depression, but it's okay," Warne said with a laugh. "The show was absolutely amazing. I couldn't be prouder of the cast, crew and everyone involved. We had a great turnout, especially since some people were very nervous about the situation right now, but the turnout was fantastic and we had a lot of community input. We had guest actors every night, including superintendents from the two Johnson County school districts, the principal of Johnson Central High School… I think it was good for the people in the theater to see that they are being supported. by the community as a whole.
Warne said she felt the bridge that was now being built between the surrounding area and the school districts had been a blessing.
"It was good for people who maybe hadn't done a theater to see what it looked like, and it was good to have this bridge built between the school districts and the people around," said Warne. "We've had a lot of positive responses, people come out saying they wish they had done it and they would like to do it next year if we do something."
Warne said AppleTown is already planning for the future, with talks already headed for next summer.
"AppleTown is planning to move forward, but right now we all need to get some sleep and talk about it," Warne said with a laugh. "Oh my God. It was, I don't know how many 14 hour days in a row and then you crash. Yeah, I really think it's going to move forward, we've had a lot of people interested. to help out as a leader and a lot of people interested in coming back on stage. So I really can't wait to see what it does for the community, because it really seemed to make people happy and that's the whole point, that is. it's about bringing people together, having fun and producing something our city can be proud of. "
Regarding hometown pride, Warne said there was certainly a feeling the production was attracting people from surrounding states, including Ohio and West Virginia, as well as people from other parts. from eastern Kentucky, including Ashland and Pikeville.
"It didn't just reach our local audience, we brought people to town and it was really well received," Warne said. "So people in the big cities who've seen, you know, touring shows and stuff, it's nice to hear that they enjoyed it."
Warne said the production also hit its original target, giving outlet and closure to high school kids who lost their productions in 2020 – with special thanks to Tikena Castle, who went above and beyond, according to Warne, for this production really feels like these productions should have.
"It absolutely is, and I'll tell you, Tikena Castle was amazing. Her daughter was one of the seniors in 2020 and Tikena was in the room, overall and she got flowers for every senior from 2020 and she made sure – when we close a show parents ask always to put some kind of little joke in the show for their kids, "Warne said. "So she managed to pull some pranks and include everyone who would have been senior in 2020, just to include them and give them a sense of normalcy in a time that was really not normal. So I think it has been very beneficial. The strangest thing I heard was, "Well I can't move out, I'm moving to my dorm"… I'm not used to working with kids coming out of high school. They were all very grateful for the opportunity and they all appreciated it very much.
Warne said she had hope for AppleTown and was grateful that so many people came together to make Mamma Mia a great experience.
"I just think, all around, we could benefit, you know, not just the people involved. There is something incredibly rewarding for the work you do and to see it come to life, but also for the city, "said Warne. "It's so nice to see your show come to life and to feel that sense of pride that you have been able to help in the process of creating something that has been so well received by everyone. It just makes you proud.
For more information on upcoming news from Johnson Central High School Players and AppleTown Productions, follow them on social media by searching.