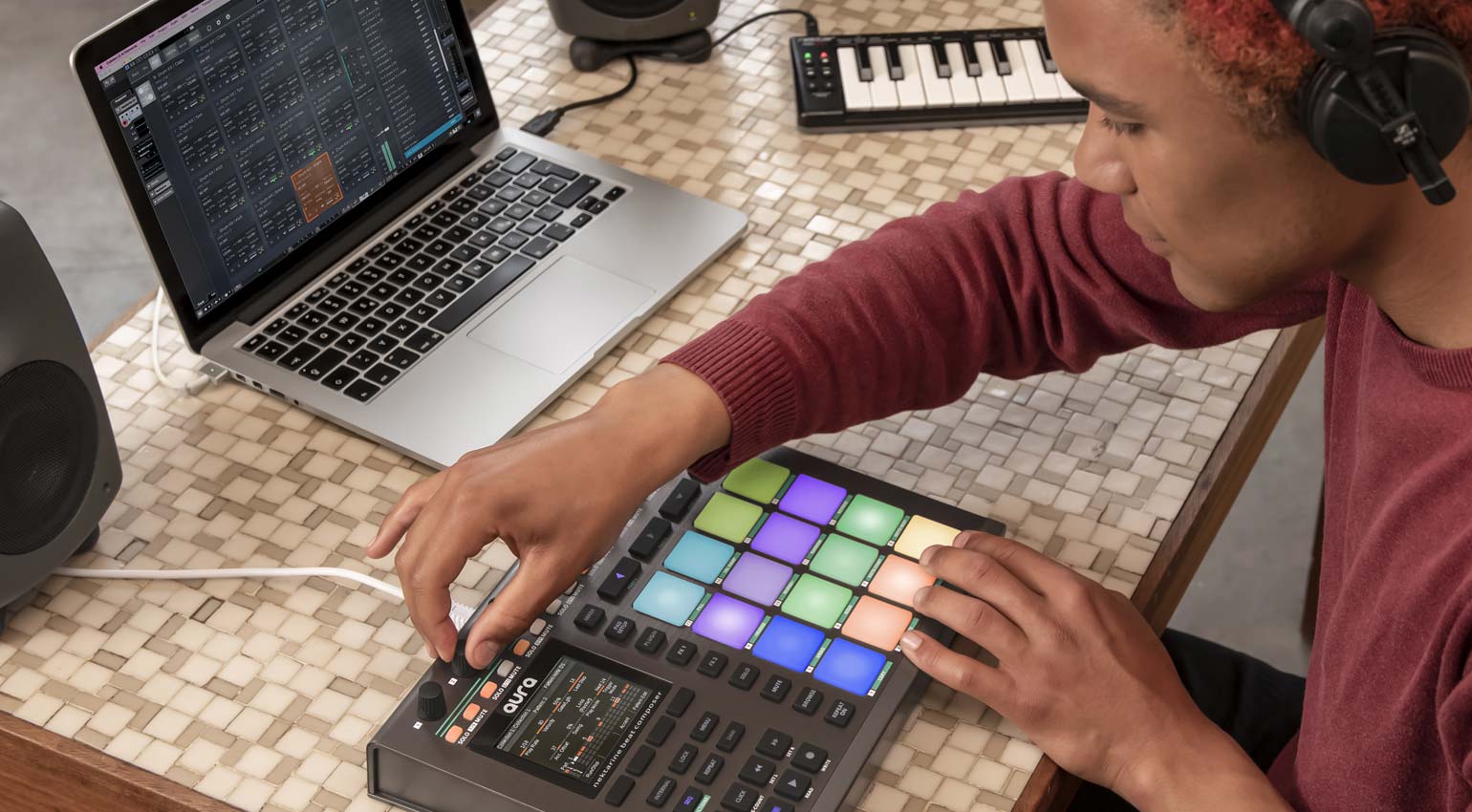 Nectarine 2.5 ·

Source: Nektar
Nektar released Nektarine 2.5. The software turns the Aura Controller into a complete beat production studio. If you already own Aura, be sure to download the free update. And if you haven't had the opportunity to test the controller yet, it becomes even more interesting!
Nektar Nektarin 2.5
One of the major new features introduced in Nektarine 2.5 is the new DP-1 Drum Player connect. It plays samples in WAV and AIFF formats at up to 24-bit/192kHz resolution. The included library consists of 500 drum samples and covers everything from classic drum machines to acoustic sets to electronic sounds. According to Nektar, the acoustic sounds were captured using typical drum kits and recording techniques from different eras, resulting in an authentic sound.
Nektar designed the DP-1 for instant sound shaping using the Aura Controller. Eight rotary knobs provide direct access to parameters such as pitch, attack, decay, slope, and filter, so you can dial in custom drum sounds on the hardware in real time.
If you like the punchy sounds of old-school samplers and drum machines, you'll love "1982 mode", which lowers the bitrate to 8-bit and lets you adjust the sample rate and filter. Additionally, the DP-1 offers a one-knob compressor and a 2-band EQ.
New interface and workflow improvements
According to Nektar, Nektarine 2.5 comes with a revamped user interface with a bunch of new features. New Showing pads makes it easy to assign sounds to the 16 controller pads. Simply drag and drop samples onto the pads to open them in DP-1 and create a channel strip. Each pad offers up to four insert effects and four global send effects. When you're done, you can save the entire setup as a multipatch in a single preset.
Rack view displays all loaded plugin interfaces in a drop-down list, which is a great way to keep track of what's going on. The header bar shows the essential plug-in parameters, and there is a Navigator for quick and easy patch selection.
Mix View looks like a mixing console and makes it easy to adjust parameters like panning, sends, and volume. Just like a DAW, it also displays all loaded insert effects. Moreover, the new browser is also available in Mix View, so you can select your favorite presets by drag and drop. Needless to say, the mixer is hardware-integrated and its parameters are available on Aura's mixer screen in banks of eight channels.
We think Nektarine 2.5 is a very promising update. If you are looking for a complete beat production studio, the combination of Nektar Aura controller and Nektarine software has become an even better option.
Price and compatibility
Nektarin 2.5 requires macOS 10.11 or higher (including Apple Silicon) or Windows (8, 10). The software is running autonomous or as VST, VST3, AU or AAX plugin in other DAWs. The update is free for all owners of a Nektar Aura Beat Composer controller or a Panorama T keyboard controller.
The Nektar Aura Controller is available at Thomann*. Two Panorama T series keyboards are also available from Thomann*.

More information about Nektarine 2.5
Video
* This post contains affiliate links and/or widgets. When you purchase a product through our affiliate partner, we receive a small commission which helps support what we do. Don't worry, you pay the same price. Thanks for your help!