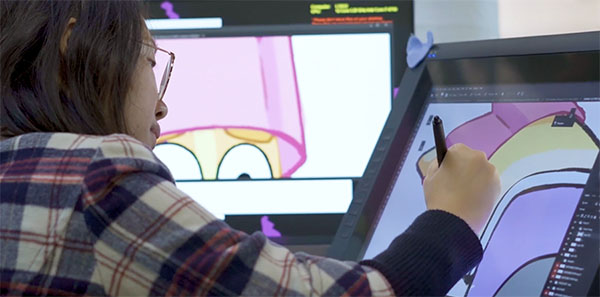 Screen Queensland is inviting expressions of interest from Queensland post-production, digital and visual effects companies to take part in a new internship program as part of a campaign to grow the post-production sector. production in the state.
Screen Queensland's Post, Digital and Visual Effects (PDV) Professional Placement Program will support one-year paid internships for up to five early to mid-career professionals across all of the PDV disciplines, including post-production, post-production audio and visual effects.
Screen Queensland chief executive Kylie Munnich said the introduction of the program comes with the increase to 15% of the state's PDV incentive announced last October by Queensland Premier Annastacia Palaszczuk , as well as a lowering of the minimum expenditure threshold from $500,000 to $250,000 for greater accessibility.
Munnich notes that "these competitive changes are already having a dramatic impact on the number of productions applying for the PDV incentive, providing an immediate boost to the local post-production sector, which enjoys a top notch reputation. , both nationally and internationally.
"Queensland now has the most competitive POS incentive on Australia's east coast which, in conjunction with the Federal Government's location incentive and Screen Queensland's production pull strategy, is pushing even more local, interstate and international companies to hire Queensland post-production facilities.
"This new internship program is important to ensure Queensland has a strong pool of post-production professionals to meet this increased demand for local, interstate and international productions to choose Queensland for their post-work.
"We are helping the industry to further develop its skills and ability to meet the growing demand for highly technical post-production work, be it sound, editing, animation, special effects, color grading, etc."
Post-production companies operating in Queensland, and with more than 50% of their workforce based in the state, can submit an expression of interest to host up to five placements, for which Screen Queensland will contribute $50,000 each toward salary in accordance with MEAA. industry awards.
Early to mid-career post-production practitioners who have been resident in Queensland for more than six months can register now to be notified when applications for internships open. Applications are encouraged from those who identify as Aboriginal and Torres Strait Islander, female, LGBTQIA+, culturally and linguistically diverse, living with disabilities, and from underrepresented ages and socio-economic backgrounds .
Munnich adds "this is a compelling opportunity for post houses in Queensland to cost-effectively increase capacity, while providing invaluable on-the-job training for new talent, eager to learn skills and networks in this exciting and growing sector of our state."
Recent projects completing post-production in the state include Paramount Pictures' The Infernal Machine at Serve Chilled; The Best Surf Movie Ever from Bronte Pictures at the Post Lounge; ScaryGirl is produced in partnership with Brisbane's Passion Pictures and Like A Photon Creative; Bluey Seasons 1-3 at Ludo Studio; and MGA Entertainment's LOL Surprise! OMG – The movie at the Pixel Zoo.
Expressions of interest, including full eligibility criteria, are available online at screenqueensland.com.au and close Tuesday 8 March.
Image: Behind the scenes at Ludo Studio, in production on Bluey, supported by the Queensland Government through Screen Queensland's Post, Digital and Visual Effects (PDV) incentive.
Related Articles
December 21, 2021 – Screen Queensland bids farewell to Jo Dillon as Creative Director
December 16, 2021 – Screen Queensland announces first members of its Equity and Diversity Task Force
December 11, 2021 – Screenworks will offer workshops and events as part of the North Queensland Regional Program
November 5, 2021 – Launch of a new training program for emerging practitioners in Queensland's screen industry
October 19, 2021 – New screen studio site unveiled for Cairns
August 25, 2021 – Screen Queensland launches new fund to support innovative projects across Australia
January 14, 2021 – Screen Producers Australia will offer the 2021 Conference and Content Marketplace program online
June 25, 2020 – Screen Producers Welcome $50 Million in Federal Government Funding
March 27, 2020 – Tough times for cinemas with all Australian screens closed
May 28, 2019 – Big Screen Video completes over 750 installs in Australia and New Zealand
September 19, 2018 – The new giant screen in Fed Square will be used as the live viewing site for the AFL Finals
May 31, 2018 – Create NSW announces members of Western Sydney Arts, Screen and Culture Roundtable 2018
---
Support our industry news service
We hope you enjoy the news we post, so while you're here can we ask for your support?
As an independent publisher, we need reader support for our industry intelligence gathering, so ask – if you're not already – to support us by subscribing to the print version. Australasian Leisure Management magazine and/or our online news.
Click here to see our subscription options.