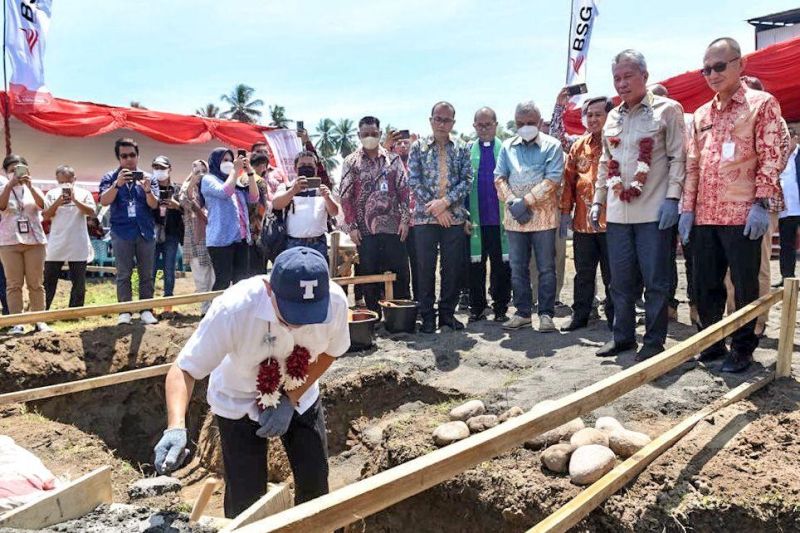 North Sulawesi, particularly (its) southern district of Minahasa, is one of the largest coconut production centers in Indonesia, with a production rate of over 270,000 tons in 2021
Jakarta (ANTARA) – The Ministry of Cooperatives and SMEs will build a production house in South Minahasa district, North Sulawesi province, to process coconut products.
Later, the production house will be run by cooperatives to speed up the endorsement of farmer-owned coconut products.
"North Sulawesi, especially (its) South Minahasa district, is one of the largest coconut production centers in Indonesia, with a production rate of over 270,000 tons in 2021. Unfortunately , this coconut production has yet to bring added value to smallholder farmers at first hand," noted Cooperatives and SMEs Minister Teten Masduki in North Sulawesi, quoted in an official statement on Friday. .
Related News: Ready for trial distribution of diesel to fishermen: ministry
All the while, farmers only sold whole coconuts at low prices, he pointed out. On average, each whole coconut was priced at Rp 2,000, but if processed into virgin coconut oil (VCO), it could sell for Rp 12,000 per item.
One hundred kilograms (kg) of coconuts produced 25 kg of coir that could be processed into 7.5 kg of coir fiber at Rp 2,000 per kg and 16 kg of coir peat at Rp 500 per kg.
Coconut shells are also said to be made into briquettes or charcoal that are highly sought after overseas.
"Commercial players are also currently investing heavily in coconut products. So, it has great economic value which is more than palm oil, and there is no environmental problem, it is so our (selling point)," the minister said.
Farmers could not be able to process the products independently, as the technology required was quite expensive. Therefore, the establishment of the production house had become a huge measure as an effort for downstream processed products.
Related News: PTPN to start construction of red palm cooking oil pilot plant
Masduki emphasized the need to maintain the house well, so that it lasts a long time. If the initiative were to succeed, it is likely that the government would build similar production houses in other locations throughout Indonesia, each tailored to the region's signature products.
Minahasa South District Chief Franky Donny Was Demat noted that his area has 46,000 hectares of coconut plantations. In the future, 600 SMEs will specifically develop coconut products from the production house.
He believed the initiative would help coconut producers, especially micro, small and medium-sized enterprises (MSMEs), to gain added value through the downstream processing of coconuts.
"Let's work hand in hand, support and work together to make it a success. Only five districts and cities accept this project to build joint production houses, and South Minahasa is lucky to be one of them" , concluded Demat.
Related News: Ministries organize program to help fishermen buy fuel oil
Related News: Minister prescribes factory sharing to improve MSME product quality